Embarrassed to Show Your Feet this Summer?
on·y·cho·my·co·sis
a fungal disease of the nails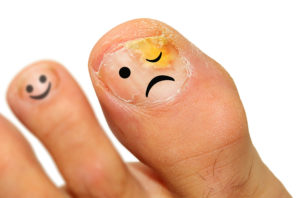 Don't let your nails be sad.
Are your nails dull, brittle, thick, and discoloured? You may be suffering from a fungal nail infection or onychomycosis. While most infections can be mild, some can be severe where the nail becomes thickened and can detach from the nail bed. We offer treatment options for the infection, including Lunula Laser, nail care, topicals, soaps, and cosmetic options for severely damaged nails. 
Our most effective treatment is the Lunula Laser. This treatment is a non-thermal laser that combines two different levels of lasers and diodes. Lunula combines violet and red diodes (light), which causes reactions within your cells that fight off the infection. In a study that you can read here, it was concluded that Lunula Laser treatment "produced a greater mycological and complete cure rate than . . . topical and systemic drugs." Here, in our clinic, we have seen great results with this painless treatment, with most patients seeing improvement by the first follow-up appointment. If you think this treatment is right for you, book an appointment today!
Alternatively, you can come in for routine nail care, where your chiropodist will smooth your nails. Nail care does not treat the infection but can improve the overall appearance of the nail. Topicals work well concurrently with nail care as the formula will better penetrate the nail. 
If you are looking for a cosmetic solution, we offer Keryflex, an application of resin to create an artificial nail that attaches to the remainder of your toenail. Check out the Keryflex page for more information on this treatment. 
Request an appointment today to have your feet assessed and get a headstart on the treatment of fungus-free feet!