Meet Our Chiropodists
With our ever-growing clinic, we'd like to take this time to reintroduce you to our team of chiropodists.
Richard Werkman opened this clinic in Oakville under J. Richard Werkman – Chiropodist at the end of 2009. Since then, there has been a name change to include his fellow chiropodist, Kaitlin Boven, and future associates, and a location change. These upgrades came with more employees and associates, more space, and more patients. Rick continues to enjoy providing the same great footcare, especially enjoying biomechanics and problem-solving your foot pain with custom-designed orthotics.
Kaitlin Boven followed in her father, Rick's, footsteps. Kaitlin studied at Queen Margaret University in Scotland, obtaining her Bachelor of Science in Podiatry. Upon returning, she added to the team Rick had started with Kelley and himself. Kaitlin's focus is foot-related diabetic complications, and she obtained her M.Sc. Diabetes with her dissertation on diabetic foot ulcers and treatments. In 2018, Kaitlin married and, over the past few years, has welcomed two children. She is currently on maternity leave, taking care of her newest baby.
Kelley North joined the team in 2013. She studied at the Michener Institute, graduating in 1990 and took a break from chiropody in 1998 to enjoy the airline industry. Kelley enjoys taking care of your routine footcare needs.
In 2019, Stephen Witiuk came to our clinic. He attended Michener Institute, graduating in 2018. Steve uses his knowledge and experience in sports, especially hockey and golf, to aid his chiropody knowledge. In addition to his biomechanics and routine care skills, Steve can perform the Falknor's Needling wart treatment and partial and total nail avulsions.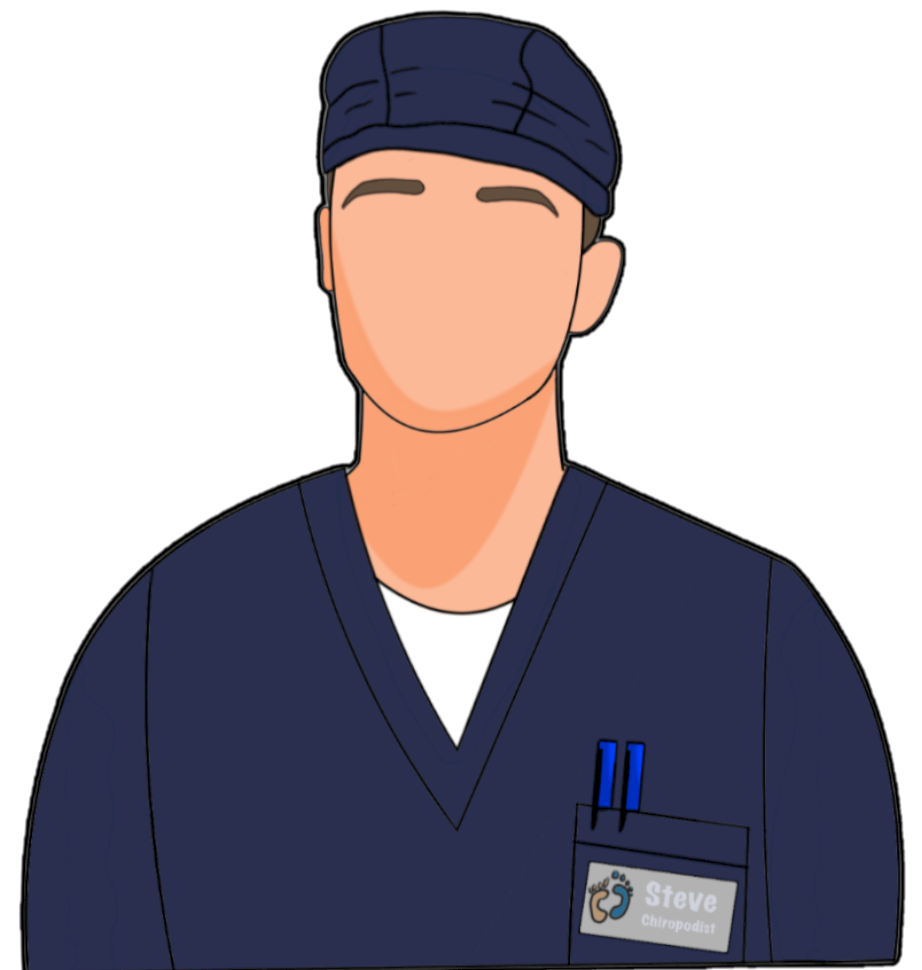 Again our clinic grew in February of 2020 when Vanessa Pontet joined us. She has been practicing in and around Oakville for 30 years, and we are happy to have her in our clinic to offer her experience and expertise. She enjoys the challenge of keeping many of her athletic patients in their best possible shape for their training and sporting events with her partnership with Runner's Goals running club.
Gregory Fulton came on board in 2021, following his graduation from the Michener Institute. Alongside Steve, Greg also has a passion for biomechanics and sports, specifically baseball and football, and he excels in orthotics and various soft tissue surgeries.
The newest addition to our chiropodists' team is Lauren Wilkins. While Lauren has been working with us since May 2021, she graduated from the Michener Insititute in 2022 and subsequently has gone from an assistant to a chiropodist. We're excited for her to have made this transition and are happy to hear all the good things her patients have to say about her.
As you can see, we are a busy clinic with seven practitioners here at Werkman, Boven & Associates. We're so excited to see how the clinic has grown over the years and look forward to continuing to provide exceptional footcare for all ages! 
Schedule an appointment with one of our chiropodists today: